Company Registration No.: 5443306
R. L. DAVIES PLANT HIRE LTD. | Inert Waste Transfer Station
Click on the Livechat Assistance tab for immediate help with your request.
Please note : Livechat Assistance is only available 9am-5pm Mon - Fri.
 Below are some useful contact details
WE ARE AN ENVIRONMENT AGENCY LICENSED COMPANY: LICENSE NO. EAWML / 37247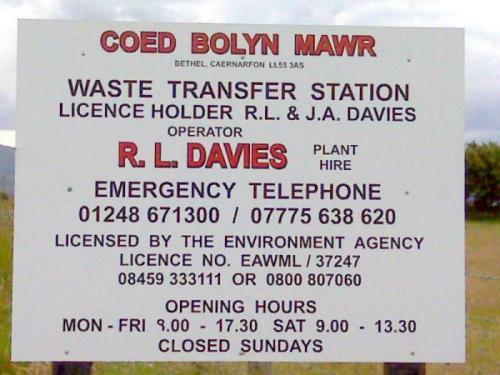 Robert Ll. Davies (Director)
Jennifer A. Davies (Director)
                     Olwen S. Ll. Davies (Office Manager)
Alternatively:
Office: (01248) 671 300
Mobile: 07976417112
Or Write to:
Coed Bolyn Mawr
Bethel
Caernarfon
Gwynedd
R. L. DAVIES PLANT HIRE LTD.
COED BOLYN MAWR, BETHEL, CAERNARFON, GWYNEDD. LL55 3AS
| 01248 671 300 | 07775 638 620 | olwen.davies@rld-ltd.co.uk |